Create Art
With the right tools
and technique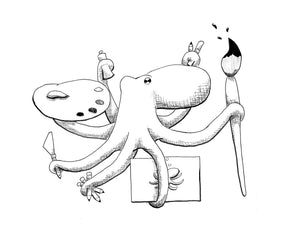 Our Story
Six Principles Art Lab is comprised of a passionate team of artists and educators. We're excited about art education, and we use art to promote well being while creating a space for social connection.
The cornerstones of our creative approach are creative play with a variety of materials, the design thinking of Bruno Munari and Josef Albers, Reggio Emilia-inspired philosophy, and—most importantly—using affordable high-quality art supplies.
Octopus Art Box is our signature box that based on this foundation, and our creative projects have been tested by many teachers and artists of all ages.
We curate our Art Box with two central learning principles in mind: nurturing Eco-awareness and Mindfulness practices.
When it comes to learning about nature, we pay homage to the majestic beauty of our home provinces. Themes are organized around five fundamental environmental elements: land, water, sky, plants, and wildlife. We promote eco-literacy and an inspired appreciation of our natural environment. 
A portion of the sale proceeds from our art box will support designated environmental-focus and nature-preservation organizations.
Buy Now
Sample brands we like to work with